(1) Posted by Marco Guida [Monday, Dec 5, 2022 17:45]
Sad news: Marco Bonavoglia has passed away

It is with deep sadness that Italian composers announce that Marco Bonavoglia has passed away.
We are sure that composers that had known him in person have appreciated him not only as a composer, mainly of Retros, but also as a person.
We will never forget the time spent together, in front of a chessboard or otherwise. Today we have lost a friend.

(2) Posted by Marjan Kovačević [Monday, Dec 5, 2022 17:58]

A terribly sad news...
Marco was especially pleasant person, the one to always enjoy in company, and to miss so much now.

A long standing Italian delegate in our Federation, and the WFCC auditor for some time.

Chess Composers blog writes: "more interested in heterodox problems: helpmates, retro and fairy problems.
In 1985 he created the magazine "Etero Scacco Problemi" which became a fairy oriented website."

http://chesscomposers.blogspot.com/2012/05/may-14th.html

(3) Posted by Michel Caillaud [Monday, Dec 5, 2022 23:17]

Very sad. I enjoyed Marco's friendly company many times over the years. Great in my memory are the unforgettable Sant'Ambrogio meetings he organized in his town Milano.

(4) Posted by Mike Prcic [Tuesday, Dec 6, 2022 02:04]

Marco came to visit me in California and stayed one week. We had great time.I always remember how particular he was about pasta and French baguettes. My wife Virginia bought one every morning and Marco would inspect it for freshness. We always had a laugh about it. While visiting, we composed a stalemate which we dedicated to my daughter Iris. I thing it received a commendation.
I met Marco at the first Congress I attended. He spoke fluently several languages. We always had interesting conversations.
We will all miss Marco very much.

(5) Posted by René J. Millour [Thursday, Dec 8, 2022 14:44]

As he was in all the congresses, we met so many times...
A particularly pleasant man, passionate about Chess and many other subjects, a man who cannot be forgotten...
I would like it to be still possible to meet again someday in some fairy place where we could still talk at length about Retro problems and Fairy Chess...
Marco's departure saddens us deeply...
René and Bernadette.

(6) Posted by Alain Villeneuve [Thursday, Dec 8, 2022 21:17]

I still remember how we laughed when Marco showed us this in Messigny :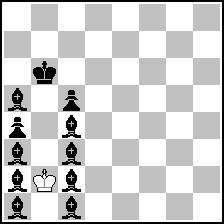 (= 1+11 )



2,5 last moves ? Isardam.

Solution : ...e (ou c) xBd6+, Fg1 (ou f2...) c5, and now the forced moves:
...dxBc5+, Kb4xNb3, ...bxBa4+, KxNb2, ...dxBc1=B+.

http://lecoursdumaitre.e-monsite.com/en/pages/tools/cb-2015/py-20150609.html
(2nd diagram)

A Dieu Marco.

---
No more posts
MatPlus.Net

Forum

General

Sad news: Marco Bonavoglia has passed away