Page: [Previous] [Next] 1 2 3 4 5 6 7 8 9 10 11 12 13 14
(261) Posted by Andrey Selivanov [Monday, Aug 15, 2022 06:31]

Lev Grolman (19.04.1941 – 11.08.2022)
Soviet and Russian chess composer, international master, Honored Master of Sports of the Republic of Tatarstan, world champion in the team competition as part of the Russian national team, bronze medalist of the individual World Championship (2016-2018), lived in Kazan.

(262) Posted by Richard Dobiáš [Saturday, Aug 20, 2022 18:52]

Gerald Sladek, the composer of many wonderful problems, mainly moremovers, passed away on 18 July 2022. For more details, see http://www.schach.at/berichte/show.php?bericht=fbe8d48ff3386f5b09e5b5738b5165570332b1a8_2_1658499942_424
or
https://www.problemschach.at/gersla.htm

(263) Posted by Paz Einat [Sunday, Aug 21, 2022 10:42]

With great sadness I inform on the death of Yosi Retter (1934-2022). Yosi was one of our best composers, an International Master of chess composition, very versatile composing in many fields but mainly two-movers and three-movers. Yosi was also a strong solver participating several times in the Israeli teams to WCSC (winning 2nd place in 1985). His funeral will be held today. Yosi served for many years in the managerial team of the Israeli Chess problem society and promoted in israel several composing competitions for young composers.

(264) Posted by Marjan Kovačević [Sunday, Aug 21, 2022 13:47]

Very sad news. For some decades Yosi was regular participant of our Congresses, and regular winner of almost all thematic tourneys.
His skills in constructing most difficult thematic combinations were amazing.

(265) Posted by Dmitri Turevski [Thursday, Sep 8, 2022 23:08]

Today it was confirmed that my friend and co-author Dmitry Zhilko has passed on 30.08.2022

He was only 46 years old. This is the obituary by hy his brother Vadim (in Russian):
https://inform-progulka.by/2022/09/08/dmitrij-zhilko-svetlaya-pamyat/

He will be missed.

(266) Posted by Marjan Kovačević [Friday, Sep 9, 2022 00:04]

So sad loss, and touching farewell by his older brother. Let him rest in piece.

(267) Posted by Marcos Roland [Friday, Sep 9, 2022 02:54]

D. Zhilko & D. Turevsky
L. Loshinsky & E. Umnov - 100 MT
Shakhmatnaya Kompozitsiya 2012
2nd Prize


(= 6+13 )



h#3
b) Rf1 to g1

a) 1.Qa3 Rxc3 2.Qxc3 Ba1 3.Qxd4 Bxd4#
b) 1.Qa1 Bxc3 2.Qxc3 Ra3 3.Qxf3+ Rxf3#

(268) Posted by Andrew Buchanan [Friday, Sep 9, 2022 07:48]

Here is a humbly offered version:


(= 7+14 )



h#3 b) Rf1->g1
DY&DZ version AB
in memoriam Dmitri Zhilko

This removes an unnecessary pin in the diagram. The position is *just* legal, with all captures made by pawns.

(269) Posted by Branislav Djurašević [Friday, Sep 9, 2022 09:19]

This excellent problem has been selected for Album FIDE 2010-12, E199. Judge at the primary tournament was B. Shorokhov.

According WinChloe database there are several themes:
Tempo
Zilahi étendu
Bristol bicolore
Bristols réciproques
Echo diagonal-orthogonal
Pseudo-sacrifice blanc
Sacrifice noir
Captures réciproques
Déclouage direct

Pinning is not a flaw. For good economy only number of pieces are counting, especially white's.

(270) Posted by Andrew Buchanan [Friday, Sep 9, 2022 09:52]

Thanks Branislav, I appreciate your opinion. The original is excellent but wR cannot shift until bQ has moved. There is no thematic need for this one-sided stickiness, as the new version illustrates. The WinChloe engine automatically identifies many features, but in a specific context not all features are thematic. The pin here is a good example. The other author felt that my version did improve on the original, and was ok for me to post it here. Economy is important, but not at the expense of thematic clarity. I don't think it's good to have a long critical debate in the Obit thread, but feel free to send me a MatPlus Note if you have other points, and I can maybe summarize any discussion later.

(271) Posted by Marián Križovenský [Thursday, Sep 15, 2022 21:53]

Yesterday we learned the sad news that on 7.9.2022 passed away the important Slovak composer and founder of the Slovak composition school, Karol Mlynka. Rest in peace!

(272) Posted by Jorma Paavilainen [Saturday, Sep 17, 2022 18:35]

I regret to have to report that GM Unto Heinonen passed away on 17th of September. He was born on December 25, 1946.
https://www.tehtavaniekat.fi/index.php/2022/09/17/unto-heinonen-in-memoriam/

(273) Posted by Michel Caillaud [Saturday, Sep 17, 2022 22:35]

Shocking news. Unto was one of my much admired composers. A great loss. I lack words to express my sadness.

(274) Posted by Joost de Heer [Tuesday, Sep 20, 2022 10:13]

Very sad news. One of (for me) the greatest composers ever.

(275) Posted by Valery Gurov [Tuesday, Sep 20, 2022 12:34]

Very sad news. Only a year ago I selected the beautiful H # 2 Unto for the FIDE Album. Outstanding master...

(276) Posted by Joose Norri [Tuesday, Sep 27, 2022 16:32]

In memory of Unto Heinonen, we played a few times proof game as an OTB game. So whoever makes a move that leads to a dualistic SPG loses, and a false claim naturally also loses. The game can probably be solved easily, it's over 20 years ago but I think the strategy of sacrificing the queen with check is good... It was fun over a couple of beers.

(277) Posted by Andrey Selivanov [Saturday, Oct 22, 2022 16:32]

Very sad news. Died Sergey Kasparyan(19.09.1952 – 13.10.2022).
http://selivanov.world/newss/detail.php?ID=1703

(278) Posted by Thomas Maeder [Tuesday, Jan 3, 2023 19:18]

Werner Issler (20.9.1933 - 2.1.2023)

Werner Issler was a strong over the board player (winner of the Coupe Suisse 1964), a successful, but not very prolific composer, and a highly respected International Judge for twomovers.

Werner Issler
Die Schwalbe 1961
3rd Prize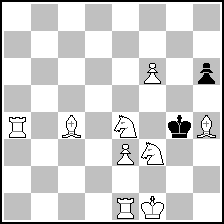 (= 9+2 )



#2v

1.♘c5?
1...♔f5 2.♗d3#
1...♔×f3 2.♗d5#
1...♔h5 2.♗f7#
1...♔h3 2.♗e6#
1...h5!

1.♗d3!
1...♔f5 2.♘c5#
1...♔×f3 2.♘d2#
1...♔h5 2.♘g3#
1...♔h3 2.♘f2#
1...h5 2.♘eg5#

(279) Posted by Siegfried Hornecker [Monday, Jan 23, 2023 22:47]

https://www.arves.org/arves/index.php/en/halloffame/333-van-breukelen-gijs

On 21 December 2022, Gijsbert Jan "Gijs" van Breukelen, has passed away. His most famous work was the taxi study, also known as tractor study, or Plaskett's Puzzle.

https://en.wikipedia.org/wiki/Plaskett%27s_Puzzle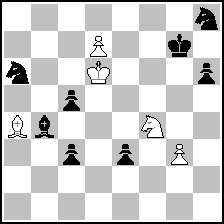 (= 5+8 )



Gijs van Breukelen, Schakend Nederland March 1990. White to move and win (modification: Arpád Rusz, Magyar Sakkvilág, July 2017)

---
No more posts
Page: [Previous] [Next] 1 2 3 4 5 6 7 8 9 10 11 12 13 14

MatPlus.Net

Forum

General

Obituaries