(1) Posted by Hauke Reddmann [Thursday, Dec 31, 2009 15:29]
The Slightly NSFW New Year Fun Puzzle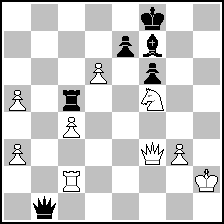 (= 9+6 )




So, what's so special about this position? Your choices, ordered
by increasing NSFW content...

a) On a8 is a trapdoor into which Goofy falls.
b) The bishop loses his religion after dxe7+ and a quick loss.
c) It's a prelude to a smothered mate "played" by
two science fiction space flottilas.
d) The pawn on a5 is a streaker.
e) The queens pose for a panel of "Miyuki-chan in Wonderland",
an erotic Japanese manga version of "Alice..."
f) A centaur "forks" :-) the enemy royals. Both of em.
It's a fork and a centaur, right?

Only one item is completely made up by me, the rest exists somewhere
on the 'Net. :-)

Hauke

(2) Posted by Siegfried Hornecker [Thursday, Dec 31, 2009 21:21]; edited by Siegfried Hornecker [09-12-31]

Wasn't Miyuki anticipated by the LSD experiences of most people when listening to "White Rabbit" in Woodstock 1969? :-)

Another NSFW:
Chess is all about mating, sometimes even with queens.
- SH


Now to get to the quiz: It's not as easy as it seems. Surely, I see the idea where a fork could be but I don't see how to make it since black would take my rook with check. On the other hand, unless I miss something, 1.dxe7+ Ke8 2.Qd3 Qb8 3.Re2 should win.

(3) Posted by Joost de Heer [Friday, Jan 1, 2010 09:16]; edited by Joost de Heer [10-01-01]

#7 with 1. ef7 Ke8 2. Qa8 Kd7 3. Rd2 Kc7 4. Qd8 Kb7 5. Rd7 Rd7 6. Qd7 Ka8/Ka6 7. Qa7# or 6. Rd7 Ka6 7. Qa8#

(4) Posted by Hauke Reddmann [Friday, Jan 1, 2010 15:40]

...where we by default assume it's White to move,
but I simply don't know since the responsible party
never stated who had the move. (This information
already rules out a few possibilities :-)

Happy New Year,

Hauke

(5) Posted by Hauke Reddmann [Tuesday, Apr 5, 2022 17:33]

Since the website below seems to be gone forever now, it's
probably Anirudh-safe to give away the solution after a
few decades. :-)

a) On a8 is a trapdoor into which Goofy falls.
>In a Mickey&Goofy comic I search since ages.

b) The bishop loses his religion after dxe7+ and a quick loss.
>Totally made up.

c) It's a prelude to a smothered mate "played" by
two science fiction space flottilas.
>In a B/W horror/sf mag (I suspect Warren - "1984"?)
I search since ages.

d) The pawn on a5 is a streaker.
>Bingo! Happened in "NSFW Comix", an utterly funny
mix of NSFW (duh) and (mostly geek) humor.

e) The queens pose for a panel of "Miyuki-chan in Wonderland",
an erotic Japanese manga version of "Alice..."
>Exists, harmless, would be printable even in INSELSCHACH.

f) A centaur "forks" :-) the enemy royals. Both of em.
It's a fork and a centaur, right?
>Can we just forget this one? :-)

(6) Posted by seetharaman kalyan [Friday, Apr 15, 2022 01:25]

Can someone please translate?

---
No more posts
MatPlus.Net

Forum

Promenade

The Slightly NSFW New Year Fun Puzzle