(1) Posted by Hauke Reddmann [Friday, Feb 25, 2022 14:05]
Looking for the inspiration to one of my old problems

Description: White threatens to queen with check.
Black interposes, I think a B (in my case it was a R)
and relies on stalemate. White then promotes to knight
and the black piece is foced. :-) The usual suspects
(Kraemer? Zepler? Brunner?) apply.

My version: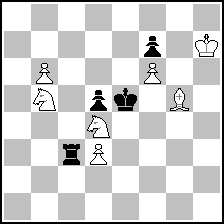 (= 7+4 )
(2) Posted by Joost de Heer [Friday, Feb 25, 2022 14:42]

Something like this?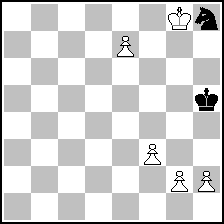 (= 5+2 )



G.N. Zakhodyakin
#3
1. Kg7 [2. e8=Q] Sf7 2. e8=S
1... Sg6 2. e8=R

(3) Posted by Hauke Reddmann [Saturday, Feb 26, 2022 09:08]

Definitely not the problem I saw, but definitely a rendering of the theme (Kh5 Sg6 Re8 is a bit "nonstandard" for a focal position, but I guess that's merely because it's rarely used in comparison to others). But first move all pawn guards one up :-)

---
No more posts
MatPlus.Net

Forum

X-Files: Anticipations

Looking for the inspiration to one of my old problems