Page: [Previous] [Next] 1 2 3
(41) Posted by James Malcom [Friday, Dec 13, 2019 22:11]; edited by James Malcom [19-12-14]

For a legal position, here is an improvement of one over Kostas's 31 There are 16 forced mates per side. It's a symmetrical position as well with a mutual pin in the middle.

#1, Duplex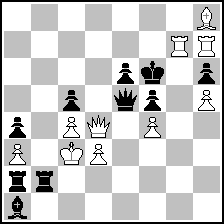 (= 10+10 )




EDIT: The a5 and h5 pawns have been removed.

(42) Posted by Kostas Prentos [Saturday, Dec 14, 2019 10:35]

The mutual pin is an excellent idea. It adds two mates effortlessly. The position works even without the pawns a5 and h4. Good job, James.

(43) Posted by James Malcom [Saturday, Dec 14, 2019 15:24]

Many thanks Kostas. I have now removed the a5 and h5 pawns.

(44) Posted by Arno Tungler [Thursday, Dec 19, 2019 09:01]

Most of the tasks that were mentioned here were addressed decades ago as Hauke already indicated. You can find tons of possible scenarios if you search for k='einz%gerrekord' on the PDB. For example for

Forced Duplex-mates with James' position in 1950: P1178852
The same with promoted force: P1180136
Forced Duplex-stalemates: P0005615

http://pdb.dieschwalbe.de/search.jsp?expression=PROBID=%27P1178852%27OR%20PROBID=%27P1180136%27OR%20PROBID=%27P0005615%27

(45) Posted by James Malcom [Thursday, Dec 19, 2019 14:22]

Thanks Arno. Looks like I was completely anticipated 69 years ago!

Also, for an illegal position, see P1180673 with 48 forced duplex mates.

(46) Posted by Hauke Reddmann [Wednesday, Apr 6, 2022 19:23]

Spring cleaning Dept.:

EDIT: POSITION 1 DELETED, AMAUROSA PROBLEMISTA :-)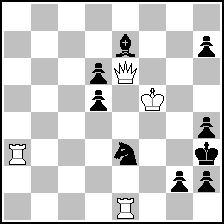 (= 4+9 )



All whites have exactly 1 move which mates (without promoted material)

(47) Posted by Hauke Reddmann [Friday, Apr 8, 2022 21:31]

El Bumpo: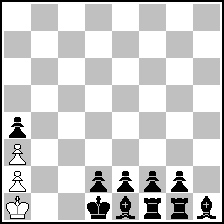 (= 3+10 )




Each move of any side stalemates, and
each side has more than one

(48) Posted by James Malcom [Sunday, Apr 10, 2022 00:14]

What is the point of your problems in the spring cleaning post?

(49) Posted by Hauke Reddmann [Sunday, Apr 10, 2022 09:10]

Problems must have a point? :-)

For the record type "All White pieces have exactly
one move, and that mates":
#1 just saves a piece for the position I already gave
(since Alfred "demanded" :-),
#2 is a (not yet shown at all!) record for positions
with non-promoted material.

And since all (known to me!) records for duplex stalemating
have only one stalemate for the "weaker" sind, I added
one with 2+2 in el bumpo, just to demonstrate it's possible.

(50) Posted by Dylan [Sunday, Apr 10, 2022 23:02]

I've seen in this thread numerous onemovers with the multiple twin stipulations of #1, s#1, s=1, h#1, etc. I wonder if this is possible to do with AUW, either mixed or all for White.

(51) Posted by Andrew Buchanan [Monday, Apr 11, 2022 04:53]

Hauke,

If your record quest is not simply "self-entertainment" it's good to specify your self-imposed conditions so others can admire, compete, learn etc.

In the first problem in 46, doesn't wK have 5 moves, only one of which is mate?

In the second one, can't you shift bB to d8, remove the d-file pawns, and stick bSg6 reducing by another unit?

In the third one duplex =1 2 sols, there are many units with no move, doesn't this violate the idea that all pieces for player on the move have exactly one move?

What am I missing?

Thanks
Andrew

(52) Posted by Hauke Reddmann [Monday, Apr 11, 2022 09:46]

Lessee...

1. Stupidity on my part. Even more inexcusable as Alfred
already made the same goof. Scrap diagram 1 of post 46.

2. This time YOU goofed :P Hint: g3 is a flight, since
I naturally lack a piece to protect it...

3. Different task: All moves of both sides stalemate,
all sides have >1 move. Should have indexed that clearer,
too late.

4. @Dylan: That would be harder to justify than a Babson :-)
EDIT: I have a position where 1.b8S#, 1.b8B! b1X#,
1.b8Q/R+? b1Q/R/B+! which you can easily reconstruct
but that hardly satisfies your task...

(53) Posted by Andrew Buchanan [Monday, Apr 11, 2022 10:22]

Good point, Hauke, OK here is the "Letztform"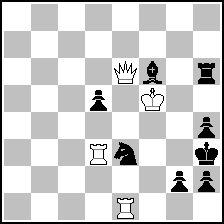 (= 4+8 )



#1 C+ this time using the full might of Popeye

(54) Posted by Hauke Reddmann [Monday, Apr 11, 2022 11:26]

Yup, that shaved off a piece fair and square. THX!

(55) Posted by Hauke Reddmann [Monday, Apr 11, 2022 11:57]

Here is another question. This is a brand-new correction of a position by me
posted 2020, probably in another thread I can't find at the moment: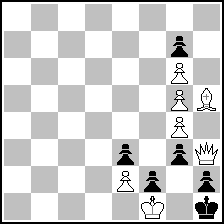 (= 7+6 )



HR, CSE 2022/Apr/11, Any White move ends the game in one move,
all four results (#,s#,=,s=) possible

I remember a problem with a similar stipulation "White ends the game"
(also posted long ago on MPF, in another thread -
but I *don't* mean the Schmidt [which is BTW anticipated? - 407710 YACPDB]
or Djurasevic in *this* thread!), either by Eeltje Visserman or someone
from Finland (I just remember vowel constipation :-). I also dumped my
feenschach 6003 there. Can't find THAT thread either.

Can someone link me to those two relevant threads?

(56) Posted by Siegfried Hornecker [Monday, Apr 11, 2022 13:57]

Niels Hoeg, Skakbladet 1907, 1st prize

Here's the problem:
https://chess.stackexchange.com/questions/13332/white-to-force-the-end-of-the-game-in-two-moves

Number 77 in "Chess Problems - Out of the Box":
https://www.dieschwalbe.de/download/buecher/keym_OotB.pdf

I don't find the MPF thread, however, where this problem is.

(57) Posted by Joost de Heer [Monday, Apr 11, 2022 15:08]

Posted today: https://www.youtube.com/watch?v=Dnpd4vgm2qQ

(58) Posted by Hauke Reddmann [Monday, Apr 11, 2022 15:49]

@Siegfried: Nevermind the thread :-)
Thus (I *did* have some vague memory that it contained an AUW
and the author a double vowel :-)
also the question of Dylan is answered in the positive.

(@Joost: one second. I've seen harder :-)

(59) Posted by Andrew Buchanan [Tuesday, Apr 12, 2022 02:49]

For the Type C promo case, reducing two queens to bishops seems wise in these tough economic times, and also saves one promotion overall:


(= 9+4 )


#1
(9 solutions as before)

---
No more posts
Page: [Previous] [Next] 1 2 3

MatPlus.Net

Forum

General

Onemovers?