(1) Posted by Geoff Foster [Saturday, Aug 14, 2021 11:02]
Emil Luukkonen

Emil Luukkonen
3 Prize, Abo Underrattelsers Schacktidning 1942-II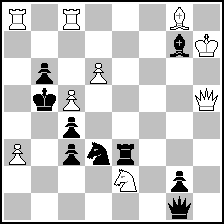 (= 9+9 )


#2

1.Bd5! (>2.Bc6)
1... Be5 2.Qe8
1... Re5 2.Sxc3
1... Se5 2.Sd4
1... Sb4 2.a4
1... bxc5 2.Rcb8

Is this composer the same person as the Finnish actor (09.03.1888 - 14.11.1952)? Those dates certainly match his composing career (approximately 1935 - 1951).

(2) Posted by Joose Norri [Saturday, Aug 14, 2021 11:50]

A theater manager, but yes, same person. He did have at least one film role.

(3) Posted by shankar ram [Saturday, Aug 14, 2021 21:12]

I had similarly wondered about the actor Claude Rains and the C.G.Rains who used to be a composer and solver.
But they were different people!

(4) Posted by Michael McDowell [Sunday, Aug 15, 2021 21:45]

When I joined the BCPS in 1975 (aged 13) the front cover of The Problemist listed the President as D.Nixon. There was a famous British magician and TV personality called David Nixon who at the time had just presented a series of TV programmes for newcomers to chess, so naturally I put two and two together. It was some time before I discovered that it was in fact Dennison Nixon, a great friend of T.R.Dawson who kept Fairy Chess Review going after Dawson's death. Nixon never travelled from his home in Middlesbrough in the north of England, but in 1993 Paul Valois, Brian Stephenson and myself took part in a solving event at the Middlesbrough Congress and took the opportunity to visit Nixon. He was a very quiet, dignified old gentleman and was quite amused when I told him my story of mistaken identity. He died just two months later.

---
No more posts
MatPlus.Net

Forum

General

Emil Luukkonen