Page: [Previous] [Next] 1 2
(21) Posted by Joost de Heer [Saturday, Nov 21, 2020 20:53]

The chess problem from Through the looking glass is also in Episode 7 (on Mr. Shaibel's wall).

(22) Posted by Andrew Buchanan [Sunday, Nov 22, 2020 08:26]

Well spotted, Joost - I hadn't noticed P1252979. The return to Methuen is one of the most powerful scenes in the story. The beautiful orphanage choir music in the background as she goes down to Mr Shaibel's cellar makes it unfairly difficult to stop a tear or two from coming to the eye. "Alice Through the Looking Glass" is thematic, as it too tells the story of a pawn-girl who meets various people who aid or hinder her in her journey to promotion. Finally, the stipulation "White pawn [Alice] to play, and win in eleven moves." I take as a kind of a challenge to Beth: "OK - *now* you need to go to Moscow and win." I've added a reprint mention to PDB.

(23) Posted by Thomas Maeder [Sunday, Nov 22, 2020 19:52]

For what it's worth: The threemover has Id 124711 in yacpdb:

https://www.yacpdb.org/#search/N2IxTjNCMjNLMWsyNXBOMTVQMjg4OC8vLy8vLy8vIzMvLy8vLy8xLzEvMS8w/1

(24) Posted by Joose Norri [Friday, Jan 8, 2021 14:44]

Sorry for a game question, but I was asked about the third game in Moscow in the last episode, by a gentleman doing youtube videos about the games. It apparently has a kingside position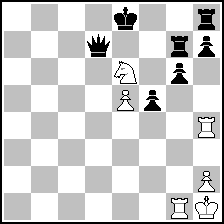 (= 6+7 )




The queen might be elsewhere, queenside not seen. Black resigns.

Does anybody recognize the game?

(25) Posted by Hauke Reddmann [Friday, Jan 8, 2021 16:15]

If you define a game as famous if my super memory
recognizes it (a rather encompassing definition, I remember
tons of games :-) - oh no it ain't. But Chess Base allows
a search also for partial positions, to my best
knowledge, so finding that out should be easy.

(26) Posted by Darko Šaljić [Friday, Jan 8, 2021 17:07]

Gyula Sax vs Viktor Korchnoi
Lugano open (1986)

(27) Posted by Joose Norri [Friday, Jan 8, 2021 18:18]

Excellent, thank you.

---
No more posts
Page: [Previous] [Next] 1 2

MatPlus.Net

Forum

Promenade

The Queen's Gambit