(1) Posted by Joost de Heer [Saturday, Aug 21, 2021 12:50]
Double step

Nice article by Frank Richter: https://dieschwalbe.de/schwalbeaktuell.htm#bauerndoppelschritt

Only double steps, first attempt (someone should be able to improve on this)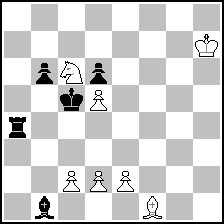 (= 7+5 )



ser-#3

(2) Posted by Frank Richter [Saturday, Aug 21, 2021 15:32]

Thank you, Joost.
I kindly ask NOT to publish here h# with ONLY double pawn moves, as there will be a small addition to the article in next Schwalbe issue (at least, I hope so).

(3) Posted by James Malcom [Saturday, Aug 21, 2021 22:43]

Thank you for the mention, Frank. I believe this may be my first in Die Schwalbe.

(4) Posted by Hauke Reddmann [Sunday, Aug 22, 2021 19:30]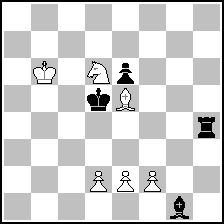 (= 6+4 )



Does this v work? (1 p saved)

(5) Posted by Joost de Heer [Sunday, Aug 22, 2021 19:40]

No: 1. Kb5 2. f4 3. e4#

(6) Posted by Andrew Buchanan [Monday, Aug 23, 2021 02:36]

But this obvious fix is C+ Popeye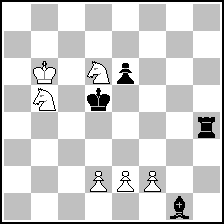 (= 6+4 )


ser-#3

(7) Posted by Joost de Heer [Monday, Aug 23, 2021 10:01]

Seven white double steps can be done trivially with AlphabeticChess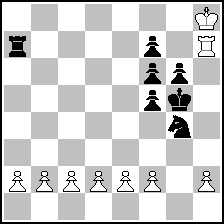 (= 9+7 )



h#6.5 AlphabeticChess
1... a4 2. Ra4 b4 3. Rb4 c4 4. Rc4 d4 5. Rd4 e4 6. Re4 f4 7. Rf4 h4#

---
No more posts
MatPlus.Net

Forum

Fairies

Double step