Website founded by
Milan Velimirović
in 2006

6:29 UTC
---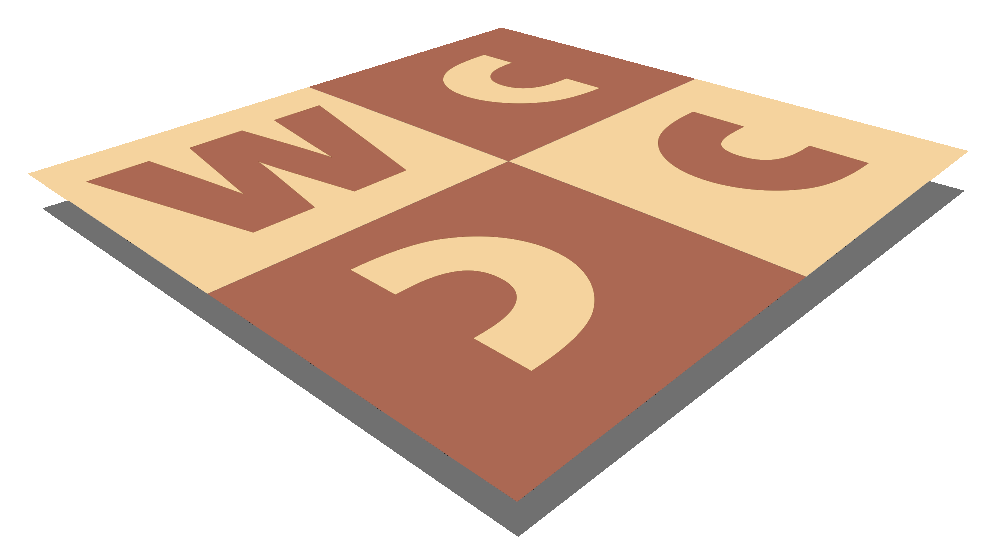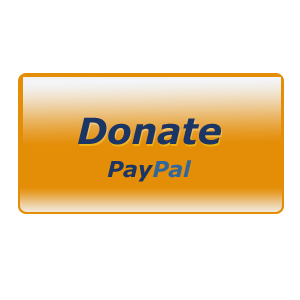 MatPlus.Net

Forum

Competitions

ECSC 2017
You can only view this page!
---
(1) Posted by Marcos Roland [Saturday, May 13, 2017 10:58]; edited by Marcos Roland [17-05-13]
ECSC 2017

Some results of the Latvian Open:

1st Bojan Vučković (Serbia) - 43,0/60
2nd Kacper Piorun (Poland) - 40,0
3rd Boris Tummes (Germany) - 38,5
4th/5th Michael McDowell (United Kingdom) - 37,0
Nikos Sidiripoulos (Greece) - 37,0
6th Miodrag Mladenović (Serbia) - 35,5
7th/8th Dmitry Pletnev (Russia) - 35,0
Panagiotis Konidaris (Greece) - 35,0
9th Anatoly Mukoseev (Russia) - 34,5
10th Richard Dobiáš (Slovakia) - 34,0
...
15th Vladimir Podinić (Serbia) - 32,0
...
43th Marjan Kovačević (Serbia) - 24,0
...
47th Marcos Roland (Brazil) - 23,0

62 participants. Everyone used all the available time (180 minutes)! Difficulty level was very high. Quality, maybe not so high.

Sample problems:

Claude Goumondy/Jean Oudot, 1973 - #3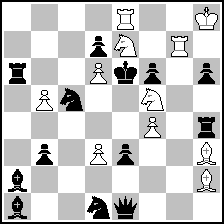 (= 11+13 )




Ladislav Salai Jr., 1981 - Win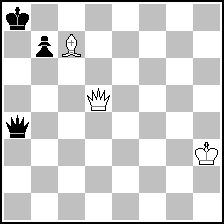 (= 3+3 )
(2) Posted by Miodrag Mladenović [Saturday, May 13, 2017 15:30]

The table with all results can be found at http://www.ecsc2017riga.lv/pdf/2017-05-12-LVA-Riga-Champ-Results.pdf

(3) Posted by Julia Vysotska [Saturday, May 13, 2017 22:44]

An updated link http://www.wfcc.ch/wp-content/uploads/2017-05-12-LVA-Riga-Champ-Results.pdf

(4) Posted by Marcos Roland [Sunday, May 14, 2017 00:09]; edited by Marcos Roland [17-05-16]

EXCITING SOLVING SHOW

The Solving Show in Riga used the format introduced by the director Vidmantas Satkus in the ECSC 2013, in Vilnius. In my opinion, the Satkus' format could give a new gas to this kind of competition, making it much more interesting, even exciting, both for the participants and the public.

The first modification relates to the used types of problems. In the more usual system, worked out by the late Milan Velimirović, only direct mates in two moves are used. Here, in each round, the competitors had to solve one direct, one helpmate and one selfmate, all of them in two moves.

Second, the format here tested, instead of the eliminatory system, uses the Swiss pairing system, well known to overboard chess players. What's more, the matches of each round are played simultaneously, all participants solving the same problems. On each table, there is a scoresheet and a pen. The solvers don't say aloud the solution nor press any buttons to interrupt the computer show. They write in the scoresheet the first move; who writes first (who first picks up the pen) gets the point if the move he writes is correct. His opponent can look at what was written, and can only register his own move if it's different from the move previously written. After two minutes, the clock is stopped, no one can write anything more, and the solution appears on the screen. Right answers earn a point, wrong answers earn zero. Thus, the points counting can vary from 3-0 to 0-0. But this results in victory for one side (one point for him and zero points for the opponent) or draw (half point for each).

With this system, there is a huge gain of time in the progress of the tournament, making it possible to use the Swiss system, in which no one is eliminated. Like overboard chess, there are three possible outcomes for each game: 1-0, 0-1 and 0.5-0.5. If someone loses his game, no problem. No need to go home crying onto the pillow: he will be paired the next round with an opponent who has precisely or approximately the same score as him. And life goes on, everyone has fun.

All of the competitors that I talked to loved the format.

Speaking now of the results, with two rounds to go (out of nine), it looked like Marjan Kovačević was the clear favorite. He was leading alone with 5.5 points in 7 rounds. I came to take a picture of him with two Poles, Kacper Piorun and Piotr Gorski, thinking the three of them could be on the podium. But to prove that these early celebrations never work out, Marjan, the oldest of the group fighting for the top spot, lost his thread on arrival. He lost the last two matches and fell to fifth place. The winner was the Belarusian Aleksandr Bulavka with 7 points, the runner-up was Kacper Piorun with 6.5.

Two sample problems used in the event: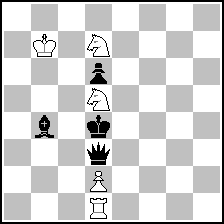 (= 5+4 )


h#2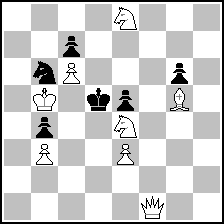 (= 8+6 )


#2

(5) Posted by Julia Vysotska [Monday, May 15, 2017 10:38]

The ECSC 2017 final results: Teams - http://www.wfcc.ch/wp-content/uploads/escs-2017-results-team.pdf | Individual - http://www.wfcc.ch/wp-content/uploads/escs-2017-results-individual.pdf.
More information and photo gallery is coming…
Thanks a lot to all participants and guests for the wonderful 3 days of the competitions!

---
No more posts
MatPlus.Net

Forum

Competitions

ECSC 2017