(1) Posted by Rewan Demontay (Real Name: James Malcom) [Saturday, Dec 12, 2020 06:25]
The $100 Theme Achieved* At Last!

At last it is done! At least it is solved! All shall hail be and pour me with their neverending reprints! Mwuahahha!

Now, Reddmann, I order you to deliver me the $100-pretty please!


h#5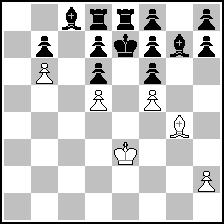 (= 6+13 )




*Per the rule that no promoted pieces are allowed. Even if White promoted to the Black pawns, they still aren't pieces, now are they? (-:

(2) Posted by Siegfried Hornecker [Saturday, Dec 12, 2020 08:01]

Fairy conditions and/or pieces are also not allowed. Pawns on the 8th/1st rank as well as on the 1st/8th rank are a fairy condition and/or piece.
We hereby reject your claim to 100 USD, but you will get a beer from me if we ever meet (and you are above the legal drinking age).

(3) Posted by Hauke Reddmann [Saturday, Dec 12, 2020 10:39]

I up the ante with a cola, I'm a fanatic teetootaa
or however that is spelled. Hearing a Finnish
metal band singing "Bier, Bier" in Dutch three browser
pages ago made that decision easier :-)

(4) Posted by Andrew Buchanan [Saturday, Dec 12, 2020 11:49]

Dummy pawns are also amazing cook stoppers, and once one went down that path it might be hard to stop.

I fixed someone's broken Babson with a dummy pawn for example and I can see no other way to do it.

I've realised that a condition is separate for the justification the composer has for using it. Some people may justify dummy pawn as fairy, where they declare the condition in the stipulation, other usually earlier problems may use it without explicit declaration as a joke, or in the case of dummy pawn it might be orthodox with a time camp, because it was at one stage a serious rule, or modern composers maybe doing it as "steam punk" recreation of olden rules. (These last two are referred to as golden age.) The actual condition will be the same, but several different justifications: neat!

The purpose of this is to keep published problems intact and not rewrite stipulations and contexts to suit current fashions and sensibilities.

---
No more posts
MatPlus.Net

Forum

Promenade

The $100 Theme Achieved* At Last!