(1) Posted by Siegfried Hornecker [Tuesday, Dec 25, 2012 06:41]; edited by Siegfried Hornecker [12-12-25]
h#2 AUW

On ChessBase chrismas puzzle former world solving champion John Nunn asks - not as a prize riddle:

Describe the only legal way in which a player can touch three different pieces in one move.

This reminded me of this problem where the answer is included.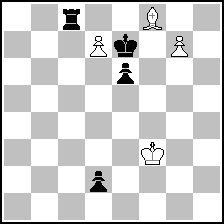 (= 4+4 )



Bernd Schwarzkopf
harmonie, issue 106, problem no. 10, p. 148 (informal tourney 2011), special commendation
h#2

0...f8B+, then:
1.Rxf8 gxf8R 2.d1S d8Q mate

Of course, in practice there is a big dual - not in Bernd's AUW but in Nunn's puzzle! There actually is a legal way to touch up to 18 pieces in one move - by including "j'adoube". But that's not what I mean. One could do the move John Nunn asks for and then give up by laying his king down. Voila - four pieces in one move legally touched!

(2) Posted by Jan Hein Verduin [Tuesday, Dec 25, 2012 12:05]

Nice way to incorporate an AUW in a single phase h#2; well, sort of. Though I can't help thinking there's something like a black pawn missing on e6.

(3) Posted by Siegfried Hornecker [Tuesday, Dec 25, 2012 15:44]

I have corrected it. Thanks!

(4) Posted by Olaf Jenkner [Wednesday, Dec 26, 2012 21:09]

Siegfried,

you forgot to mention who invented this way of AUW in h#2.

(:-)laf

(5) Posted by Jacques Rotenberg [Wednesday, Dec 26, 2012 22:11]

It seems to me to be Michel Caillaud

---
No more posts
MatPlus.Net

Forum

Helpmates

h#2 AUW