Website founded by
Milan Velimirović
in 2006

17:39 UTC
---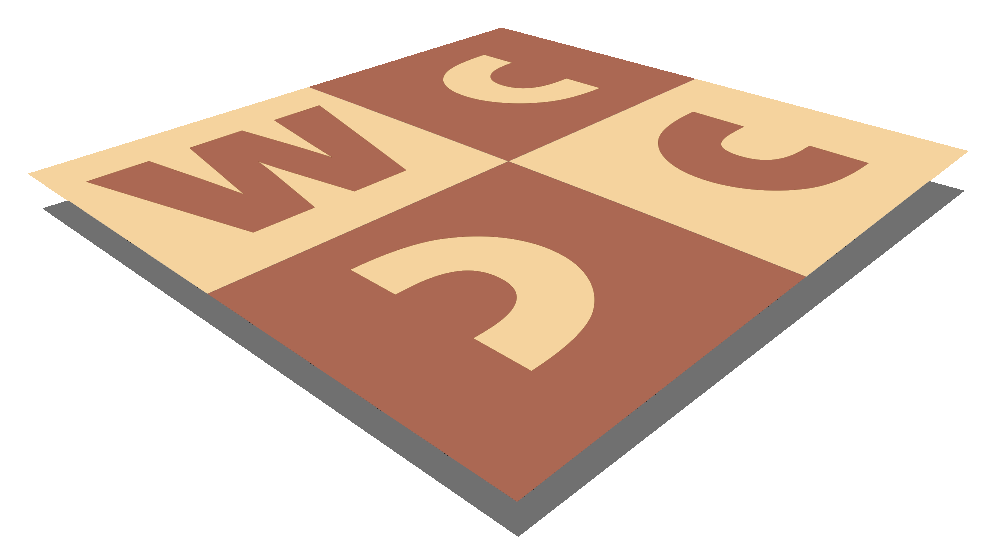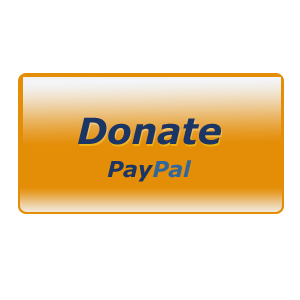 MatPlus.Net

Forum

Promenade

Report from the XVIII. Saxonia congress of chess composition
You can only view this page!
---
(1) Posted by Siegfried Hornecker [Sunday, Apr 13, 2008 22:19]; edited by Siegfried Hornecker [08-04-22]
Report from the XVIII. Saxonia congress of chess composition

Pictures: http://forchheim.sh-kunstschach.eu/doebeln2008.zip (38,5 MB; I release the pictures under the license cc-by-sa 3.0: http://creativecommons.org/licenses/by-sa/3.0/ - Author must be given as Siegfried Hornecker (except for 813 and 814 where Frank Fiedler is the author but gave me the rights so please attribute correctly) - it would however be nice if you can inform me if you want to reuse it.)

-----

The XVIII. Saxonia congress of chess composition was held in Döbeln, Hotel "Bavaria". Frank Fiedler prove excellent qualities as an organisator.

I arrived shortly before 5 PM at Friday at the Döbeln Hauptbahnhof (Döbeln main train station). Rainer Staudte brought me to my hotel, only a few hundred meters away from Hotel "Bavaria". After getting my key I went over to the congress where I stood until midnight. I met Wieland Bruch and Martin Minski again, as well as Frank Fiedler for the first time, the "Schwalbe" president Hans Gruber and treasurer Olaf Jenkner again etc.

Other very famous people were attending the congress like Manfred Zucker, Hans Gruber, Olaf Jenkner, Vladimir Korolkov (ok, the latter only in a study at the solving tourney, the others physically).

This brings me to the next point. There were three tourneys: a quiz, a solving tourney and a composing tourney.

On the quick composing tourney (it was a helpmate theme in 1.5 or 2 moves, more details when judge Hans Gruber has published the award, to prevent anticipations) I participated with someone who wants to remain anonymouse for now. We sent in 2 of the 9 entries for the tourney.

The solving tourney - time: 2 hours for 8 compositions - was held on Sunday morning from 10 AM to 12 PM. It was won by Silvio Baier, I made third place with 20.5 of 40 points. An Israeli helpmate took me over an hour and I couldn't solve it. The problems will follow in a reply (thanks to Frank Fiedler, everyone could take a copy of problems and solutions).

I didn't participate at the quiz on Saturday evening which was won by Manfred Zucker. I would have made maybe 3 or 4 points from 20 questions. Instead, from 6 to 8:45 PM I was for dinner in the "Ratskeller" with Hans Gruber, Wieland Bruch, Olaf Jenkner and another person - I think, Dieter Müller.

Talking about Dieter Müller, he left some magazines which I took with me. He doesn't want it anymore so I may keep it or send it to the Schwalbe when I'm done with it.


Of course, there were some lectures. Sadly I didn't make mine. While most were about chess problem things (for example, Franz Pachl demonstrated how he co-built a threemover), also about the recent deaths of Byron Zappas and Manfred Seidel was spoken. A longer obituary was about Klaus-Peter Zuncke when Volker Zipf talked about him and his miniature database.

Some photos of the meeting are also available. See top line.

(2) Posted by Siegfried Hornecker [Tuesday, Apr 15, 2008 14:42]; edited by Siegfried Hornecker [08-04-16]

Problems of the solving tourney


(= 9+9 )



Mate in 2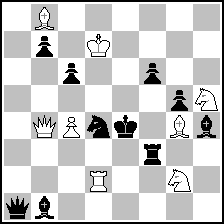 (= 8+10 )



Mate in 3


(= 6+12 )



Mate in 5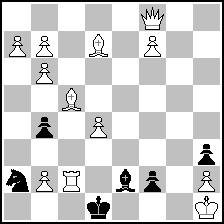 (= 12+6 )



White wins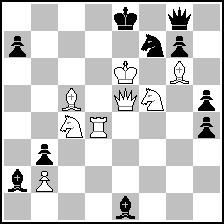 (= 8+10 )



s#3


(= 9+9 )



h#3
a) Diagram
b) wBh5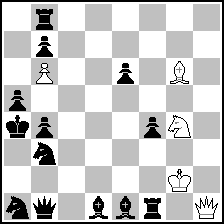 (= 5+13 )



ser-h#3
Circe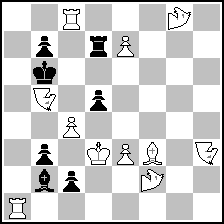 (= 11+7 )



hs#3
(white Nightrider b5 + h3, white Rose f2 + g8)
a) Diagram
b) Rose b5

(3) Posted by Mikalai Sihnevich [Wednesday, Apr 16, 2008 09:33]

Are you sure that the stipulation of 6th problem is H#2 ?

I think it should be H#3.

(4) Posted by Frank Richter [Wednesday, Apr 16, 2008 12:52]

Yes, it was a h#3 (with very nice solutions).

(5) Posted by Siegfried Hornecker [Wednesday, Apr 16, 2008 14:03]

Sorry! :-)

I corrected it. Now you have a chance to find the solutions.

---
No more posts
MatPlus.Net

Forum

Promenade

Report from the XVIII. Saxonia congress of chess composition