(1) Posted by Marjan Kovačević [Tuesday, Apr 26, 2022 22:49]
Zdravko Maslar (26.10.1932 – 24.04.2022)

Legendary Serbian chess composer Zdravko Maslar passed away in Belgrade on 24th of April, Orthodox Easter, after a short illness.

Born 26.10.1932 in the village Pilatovići (in the municipality of Požega, western Serbia), Zdravko always treasured his roots and tradition. The name of his village, where he settled during last decades of his life, became the origin of his nick name – Pile.

Zdravko was a unique man in many ways: with his life story, optimism, and an endless joy derived from friendships. During the decades of life in Germany and dreams about Serbia, his restaurant Balkan Pik in Andernach became famous in chess composition. It was the home of more than 30 yearly gatherings of fairy chess enthusiasts, where some of the most interesting fairy elements were promoted or invented, to name only Andernach chess and Masand (Maslar + Andernach).

His inner strength and patience helped to leave a unique mark in chess composition. Having a refined taste for the beauty of the game of chess in general, he was ready to spend months and years in reaching his final goals, never running to follow a new fashion or to gain distinctions and titles (international master of chess composition doesn't say enough). Many great task-records composed by him, especially in the field of help-play and series play, haven't been touched by the computers in the decades to come.

We've lost a great composer and a great man. Our deepest condolences to his son Milan and his grandchildren.

(2) Posted by Marcos Roland [Wednesday, Apr 27, 2022 03:30]

RIP, great old master. Once, in the Belgrade Chess Club, maybe 2015, I had the privilege of watching Zdravko Maslar and Michel Caillaud analysing problems for hours. In a given moment, Michel said something like "Maybe we are tired." I don't know, I can just tell I was exhausted! But I couldn't leave my audience chair, so fascinated I was.

(3) Posted by Miodrag Mladenović [Wednesday, Apr 27, 2022 06:44]

RIP, I was lucky to know Zdravko personally. It was always a pleasure when he was presenting his problems. Great men and composer. He had so many excellent problems, perfectly constructed. Here is one of his most famous problems:

Maslar, Zdravko
Bilten
1st Prize
Bilten, 1962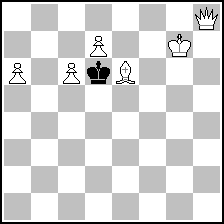 (= 6+1 )



#3

Alumwandlung in the miniature. Amazing problem. Here is a link to full solution:
https://www.yacpdb.org/#search/ODg4ODg4ODgvTWFzbGFyLCBaZHJhdmtvLy8vLy8vLyMzLy8vLy8vMS8xLzEvMA==/1

(4) Posted by Marko Klasinc [Wednesday, Apr 27, 2022 10:58]

Before moving to Germany, Zdravko lived for several years in the fifties in Ljubljana. I didn't know him at the time, but Vika and I first met him at the 1992 Bonn Congress. We later met several times at his home in Andernach, most recently during the 2016 Belgrade Congress. He always addressed us in Slovene. He always said "fant" to me, which means a boy in Slovene. An anecdote from his Slovenian period is well known. When he composed his famous h=34, he did not leave his student room for about a week. Colleagues brought him food until he finished it. What a composer! What a friend!

(5) Posted by Marko Klasinc [Wednesday, Apr 27, 2022 11:00]

h=34 Rex Solus
https://pdb.dieschwalbe.de/search.jsp?expression=A%3D%27maslar%27+and+stip%3D%27h%3D34%27

(6) Posted by Valery Gurov [Wednesday, Apr 27, 2022 12:37]

Мне посчастливилось несколько раз встречаться с Здравко в Белграде. Он был удивительный человек и выдающийся шахматный композитор, я всегда с удовольствием изучал его задачи.
От себя лично и от всех русских шахматных композиторов приношу глубочйшие слова соболезнования. 2016 год, Белград и мы говорим о шахматных проблемах, Здравко ты жив в наших русских сердцах!!!!

(7) Posted by James Malcom [Wednesday, Apr 27, 2022 17:30]

Miodrag and Marko, direct links are possible in both databases instead of length links.
Maslar's #3 can be found directly using the problem's ID: https://yacpdb.org/#56581
And Maslar's h=34 is done like this: https://pdb.dieschwalbe.de/P0501022

I will note that Maslar has been outdone with a h=35.5: https://pdb.dieschwalbe.de/P0501023
Zdravko Maslar, Version Attila Koranyi, Sakkelet 1991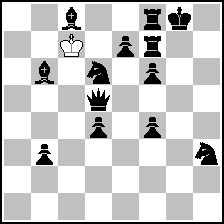 (= 1+13 )
(8) Posted by Marjan Kovačević [Wednesday, Apr 27, 2022 19:27]

James, "technically outdone" sounds very wrong in this case.
When someone invents a monumental sequence of moves, and another man uses exactly the same sequence, it should be titled a "version", not "after".
Everybody knew the original problem could have started with Kb8, as h=34.5, but in 1958 half moves were not fashionable as today (not to mention wK in check in the initial position!).
So, the only real invention was the half-move Qd5-f5. Nice little detail, but hardly deserving the authorship when repeating the following 68 half-moves.

(9) Posted by James Malcom [Wednesday, Apr 27, 2022 19:58]

You are right, Marjan. I have corrected my post along with PDB.

(10) Posted by Andrew Buchanan [Thursday, Apr 28, 2022 15:03]

Hi Marjan,

Should this even be "PQ version RS"? Isn't it just "PQ version"?

And at the other end, how do you view the boundary between version & after, please?

Thanks,
Andrew

(11) Posted by Marjan Kovačević [Thursday, Apr 28, 2022 18:31]

The funeral will be tomorrow at noon, in the Pilatovići grave yard.

(12) Posted by Marjan Kovačević [Friday, Apr 29, 2022 01:52]

Andrew, I would call it "ZM (version AK)", or "ZM (version)".
For "AK (after ZM") something valuable should be added to the content.

---
No more posts
MatPlus.Net

Forum

General

Zdravko Maslar (26.10.1932 – 24.04.2022)