Website founded by
Milan Velimirović
in 2006

22:13 UTC
---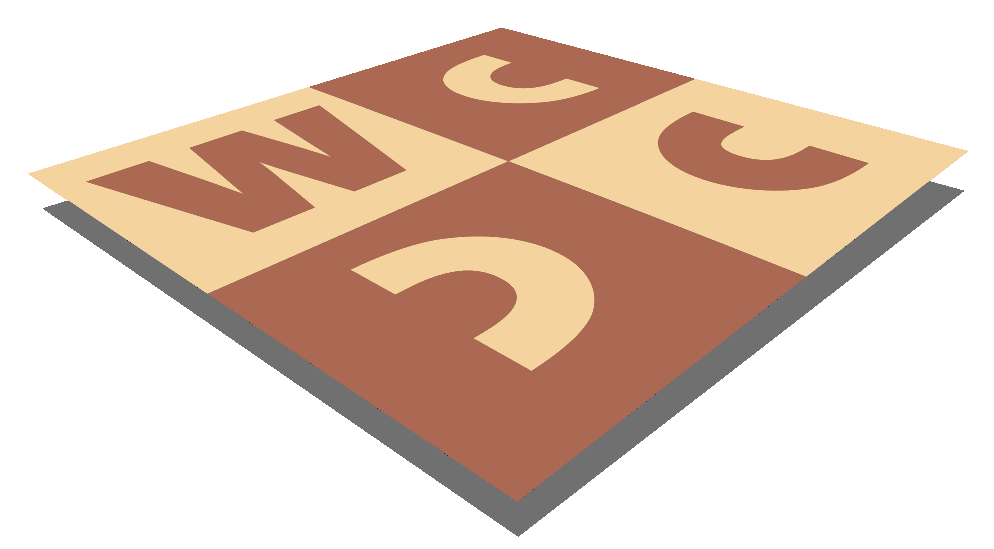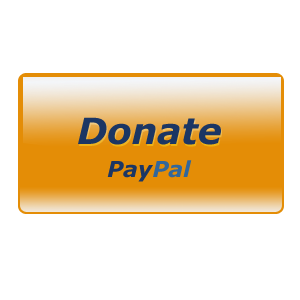 MatPlus.Net

Forum

General

The problems of my life (II)
You can only view this page!
---
(1) Posted by Marcos Roland [Friday, Sep 25, 2020 11:56]
The problems of my life (II)

SELECTED PROBLEMS 1988-1991

Since I published my first problem, back in 1988 (nr. 1 in this collection), I must have composed around eighty works. My composition work, as well my chess activities in general (including the period 1995-1999, in which I edited 29 issues of a chess magazine in Brazil), experienced several long gaps, accordingly to the numerous changes in my personal and professional life. Only after I retired from office, in 2016, I have been working more consistently in composing.

So, I discriminated three periods in my collection of thirty-one compositions: 1988-1991, 2009-2011 and 2016-2020. In the first two, I composed practically just helpmates (the exception was a single selfmate, composed in 1988, this being the only problem composed in partnership with Felix Sonnenfeld). From 2016, I started to compose some direct problems as well. From 2019 on, a little bit discouraged by some painful cases of anticipation in the field of short helpmates (h#2, h#2,5 and h#3), I decided to concentrated more, in the field of helpmates, on long problems (4 or more moves). So, I thought it best to subdivide the last period in two: 2016-2018 and 2019-2020.

I begin with the years 1988-1991.

1
UBP Bulletin 1988
1st H.M.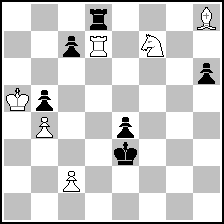 (= 6+6 )



h#3
2 solutions

1.Rxh8 Sd6 2.Kd4 Sxb5+ 3.Kc4 Rd4#
1.Rxd7 Se5 2.Kd4 Sg4+ 3.Kc4 Se3#

2
TT Meeting UBP 1988
1st Place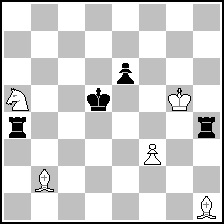 (= 5+4 )



h#2
b) rot. 180º

a) 1.Rhd4 Sb7 2.Ke5 f4#
b) 1.Rhe5 c7+ 2.Kd4 Sf5#

3
UBP Bulletin 1988
w/Felix Sonnenfeld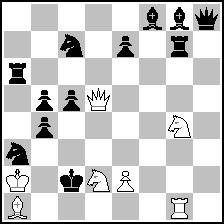 (= 7+12 )



s#2

1.Sf3 ~ 2.Qb3+
1...b3 2.Qxb3+; 1...c4 2.Qd3+; 1...Sxd5 2.Se3+; 1...Re6 2.Qe4+; 1...e6 2.Qf5+; 1...Se6 2.Qxc5+; 1...Rf7 2.Qf5+; 1...Bh7 2.Qxc5+

4
UBP Bulletin 1989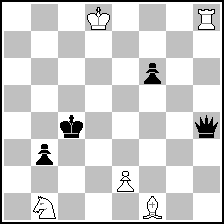 (= 5+4 )



h#2
b) rot. 180º

a) 1.Qe1 Rh5 2.Qb4 e3#
b) 1.Ke6 0-0-0 2.Qe5 d8=S#

5
Meeting UBP 1990
6th Place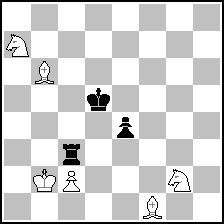 (= 6+3 )



h#2
2 solutions

1.Rc5 c4+ 2.Kd4 Sc6#
1.Rd3 c3 2.Kc4 Se3#

6
UBP Bulletin 1991
Commended
(version published in the APA bulletin 2018)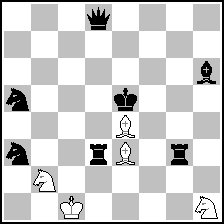 (= 5+7 )



h#3
2 solutions

1.Qd5 Bg2 2.Rf3 Sc4+ 3.Ke4 Sg3#
1.Qg5 Bd2 2.Rde3 Sf2 3.Kf4 Sbd3#

7
Sakkélet 1991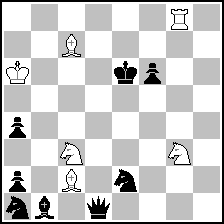 (= 6+8 )



h#2
2 solutions

1.Qxc2 Sgxe2 2.Kf5 Sd4#
1.Sxg3 Bxd1 2.Kf5 Bg4#

---
No more posts
MatPlus.Net

Forum

General

The problems of my life (II)