(1) Posted by Hauke Reddmann [Monday, Jul 27, 2020 17:23]
King Ultimo (NOT)

I looked it up: Black moves a piece, and turns it
into a King, iff White then can fulfil the stipulation.

But I'm looking for the same, only Black doesn't turn
it into a king, but declares it royal. (Vast difference :-)
(Also, the iff part seems unnecessary to me, but I plan
a h#1, so it's of no relevance anyway.)

Any fairy experts to the rescue?

Hauke

(2) Posted by Vlaicu Crisan [Monday, Jul 27, 2020 18:19]

Not exactly what you are looking for, but I have used something similar during the French meeting back in 2004.

The definition of the fairy condition was: "Instead of moving its own piece, any side can transfer the royalty property from one piece to another. The royalty transfer counts for a move and can't be done when the side is in check."

I think it was also the last time when I composed a [joke] direct two-mover. It was looking something like this (can't remember the exact position):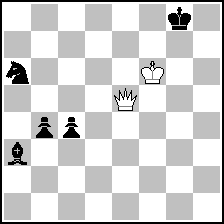 (= 2+5 )



Of course, nothing changes in the first two half-moves of the solution.

(3) Posted by Hauke Reddmann [Tuesday, Jul 28, 2020 11:20]

I checked, that condition would work in my case either.
(I want to do a promotion task - about 30 different mn-knight
ones by one color, and it's duplex :-)

(4) Posted by seetharaman kalyan [Tuesday, Jul 28, 2020 20:49]

@Vlaicu.. interesting fairy condition. But seems unusable for white.

(5) Posted by Vlaicu Crisan [Tuesday, Jul 28, 2020 22:34]

@Seetharaman: In the above example, the key is 1.Qe5=rQ! threatening 2.Kg7#

Black has no choice but to pass the royalty power to another piece, hence the following variations:
1...Sa6=rS 2.rQd6#
1...Ba1=rB 2.rQa1#
1...Pb4=rP 2.rQb5#
1...Pc4=rP 2.rQd4#

As you can see, both sides use actively the fairy condition. I think I used the name Royalty Chess, but I am not sure.

(6) Posted by Ulrich Voigt [Tuesday, Jul 28, 2020 23:26]

Can't Black simply play 1... Bb2+?

(7) Posted by Vlaicu Crisan [Wednesday, Jul 29, 2020 22:24]

You are right, Ulrich! I actually don't remember the exact position.

(8) Posted by Eric Huber [Sunday, Aug 2, 2020 22:52]; edited by Eric Huber [20-08-02]

The position was slightly different, with bBa2 instead of bBa3: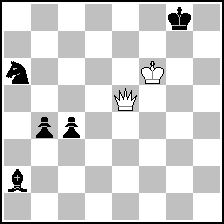 (= 2+5 )




Hence the different variation 1...Ba2=rB 2.rQb2# and no cook with 1...Bb2+

---
No more posts
MatPlus.Net

Forum

General

King Ultimo (NOT)