(1) Posted by Hauke Reddmann [Thursday, Jul 9, 2020 18:44]
Stale Berlin

No, maybe as a citizen of Hamburg I think Berlin is stale :P
but of course I didn't mean that! A simple #3 sketch: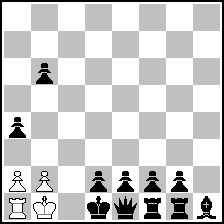 (= 4+11 )




1.b3? a3! 2.b4 b5 ends White being stalemated (instead of mated
in the Berlin theme). 1.b4? a3! 2.b5 of course makes no difference.
Thus foreplan: 1.a3! 2.b3,4 3.Kb2#

I guess since it's extremely hard to stalemate White while he still
has enough mating potential in another variant, the possibilities
are limited. Do you still know an example?

(2) Posted by Kevin Begley [Thursday, Jul 9, 2020 23:33]; edited by Kevin Begley [20-07-09]

I like where you're going...
Unfortunately, yes, the opposing constraints (of stalemate vs sufficient-mating-material) you note are indeed a choking vine.

But, there's a magical place, called fairy chess, where juicy fruit gum grows on the vine.
Relocate (but send a postcard like you're on vacation).

(3) Posted by Rewan Demontay (Real Name: James Malcom) [Friday, Jul 10, 2020 03:40]; edited by Rewan Demontay (Real Name: James Malcom) [20-07-10]

May I suggest an example of a lighter version of your problem, Hauke? :)


(= 7+8 )
(4) Posted by Hauke Reddmann [Friday, Jul 10, 2020 13:15]

You may :-)
In the meantime, I was PMed that this is called "Balken" theme
(after a restaurant in Berlin where the idea was coined) and
here is a nice example with a similar setup:

https://pdb.dieschwalbe.de/search.jsp?expression=PROBID=%27P1282666%27

"Balken" should be searchable in the PDB.

---
No more posts
MatPlus.Net

Forum

General

Stale Berlin