Page: [Previous] [Next] 1 2
(21) Posted by Hauke Reddmann [Monday, May 5, 2014 11:10]

@Arno: Very neat that there are no double refutations
(and BTW the matrix you stole from me I stole from
Sir Jeremy Morse, so rather credit him :-)

BTW, I also made a "21" (with the trick that e.p.
counts separate) but your position is far superior.

Hauke

(22) Posted by Jacques Rotenberg [Monday, May 5, 2014 12:57]

22!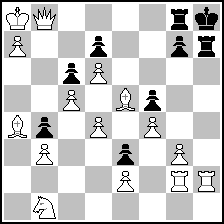 (= 15+9 )


2#

(23) Posted by Jacques Rotenberg [Monday, May 5, 2014 13:09]

But the position of Arno has another positive aspect : all the pieces are "needed" for the actual play, it means that any piece you withdraw will make the problem incorrect. It is not the case here.

(24) Posted by Kevin Begley [Monday, May 5, 2014 17:18]; edited by Kevin Begley [14-05-06]

I managed more than 22, based upon the same matrix.
I'll post it later, if nobody does better (and Jacques doesn't find an equivalent).
I think much more may be possible, but it seems to become an exercise of proving retro legality.


edit: computer problems... don't hold me to 23, as i cannot verify now.

(25) Posted by seetharaman kalyan [Tuesday, May 6, 2014 20:17]; edited by seetharaman kalyan [14-05-06]

@ Geir Sune Tallaksen Østmoe
<<<Oh, wait... with Nb1, 1.Nc3 would not even be a try, since Black also has 1...Rh6! >>>>

Sorry... I missed this simple defect !

(26) Posted by Hauke Reddmann [Wednesday, May 7, 2014 11:04]
(= 15+9 )



This, for the record (pun unintended) is the "unconditional" record
for different refutations (29) by Morse (#212 in his "Tasks&Records").
It will be interesting how high MPF gets with the additional and very
demanding condition "any move except the solution is a try" or even
"each try has a different refutation" condition.

Hauke

---
No more posts
Page: [Previous] [Next] 1 2

MatPlus.Net

Forum

General

twomover : tries ?!