(1) Posted by Diyan Kostadinov [Friday, Jan 11, 2019 13:40]
KoBulChess Helpmates in 2 moves 2016 Award

Hello. Here is the award of KoBulChess Helpmates in 2 moves 2016:
http://kobulchess.com/en/tournaments/awards/1282-kobulchess-helpates-2-2016-award.html

(2) Posted by seetharaman kalyan [Friday, Jan 11, 2019 21:28]

Already some claims received. Thanks for our alert correspondents. Hope everyone looks at this wonderful award presented by Shankar Ram

(3) Posted by Abdelaziz Onkoud [Saturday, Jan 12, 2019 00:19]; edited by Abdelaziz Onkoud [19-01-12]

4° Prize : The correct position
Abdelaziz ONKOUD
Nebojsa JOKSIMOVIC
KoBulChess 2016
4° Prix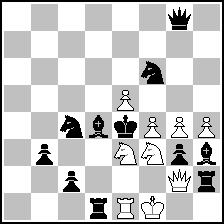 (= 9+11 )



h‡2
4.1.1.1

-----
Comment in kobulchess
http://kobulchess.com/en/problems/originals-2016/1015-problem-749-abdelaziz-onkoud-helpmate.html

#4 Onkoud 2016-08-11 20:27
Position finale:
Abdelaziz ONKOUD &
Nebojsa JOKSIMOVIC
KoBulChess 2016
6q1/8/5s2/4P3/2sbkPPP/1p2SSpb/2p3Qr/3rRK2
…

(4) Posted by seetharaman kalyan [Saturday, Jan 12, 2019 06:41]

Thanks Oncoud.

(5) Posted by Diyan Kostadinov [Saturday, Jan 12, 2019 11:06]

Thanks Abdelaziz. We will fix this in the final award announcement.
But to avoid mistakes, please use only english letters in the comments on the website, because comment #4 on your problem 749 is full of mistakes because of the (most probably) french letters being used.

---
No more posts
MatPlus.Net

Forum

Competitions

KoBulChess Helpmates in 2 moves 2016 Award