(1) Posted by Siegfried Hornecker [Thursday, Jul 22, 2010 11:40]
Simplicity vs. complexity

Isn't simplicity also beautiful, even though barely one would publish it these days if it doesn't have an outstanding idea (like Mees)? I can also enjoy the works of Pogosyants and others with very simple ideas.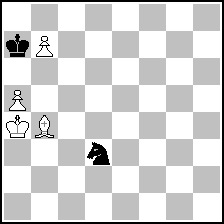 (= 4+2 )



Wouter Mees
De Schaakwereld (no. 308) 1939
White wins

Simple or complex?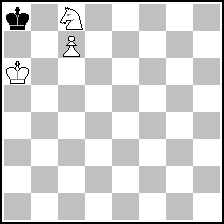 (= 3+1 )



SH, original
White wins

Simple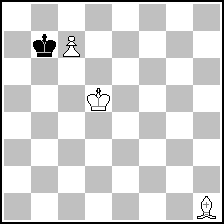 (= 3+1 )



Ernest Pogosyants
Prapor Junosti (Dnetropetrovsk) 1976
White wins

Simple

(2) Posted by Ian Shanahan [Friday, Jul 30, 2010 11:45]

In general, simplicity is NOT the antithesis of complexity, but, rather, complexity articulated with great clarity. THAT is what makes it beautiful. The polar opposite of 'complex' is merely 'simplistic' - which is always to be shunned. All of this is certainly true for music (my own professional field).

(3) Posted by Siegfried Hornecker [Friday, Jul 30, 2010 14:22]

So I take the freedom to link to your biography, after you confirmed here to be the same person:
http://www.australianmusiccentre.com.au/artist/shanahan-ian

(4) Posted by Ian Shanahan [Saturday, Jul 31, 2010 00:06]

Yes Siegfried, that is indeed me (the picture is now rather old) - guilty as charged!

In (art-)music over the last 25 years or so, there has been a great deal of internecine strife between those, such as me, who compose - and advocate - conceptually and structurally complex music and those who embrace its antithesis. The trouble is, most of the 'simpletons' (they call themselves the "New Simplicity") write dreadfully simplistic music.

I concur with the Welsh composer Richard Barrett - "Complexity is not a problem, it's a solution".

... None of which is in any way critical of your fundamental proposition. The Mees is what I'd call 'simplex'!

(5) Posted by Hauke Reddmann [Friday, Aug 6, 2010 10:58]

To file under simple:

H. Reddmann, Original*: Kg4 Rh5 Pf4 - Ke6 Rf7, Win

Hauke

* Subthread! Subthread! Of course I didn't "compose" the
position, it arose exactly like this in a OTB tournament
yesterday. Between two patzers, and I was the only
componist in the room, so can I hereby steal the position
and claim it as mine? Like, Biopiratery got away with
far more brazen thefts...

(6) Posted by Siegfried Hornecker [Friday, Aug 6, 2010 13:34]; edited by Siegfried Hornecker [10-08-06]

Better something like this, if it has to be a rook ending: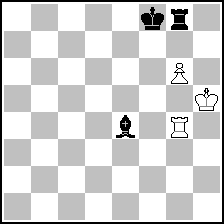 (= 3+3 )



SH, Original
White wins
1.Rf4+ Ke7 2.Rxe4+ Kf6 3.Rf4+ Kg7 4.Rf7+ Kh8 5.Rh7 mate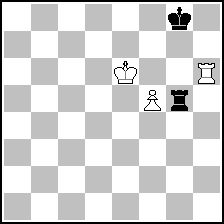 (= 3+2 )



SH, Original
White wins
1.f6/i Rg1 2.f7+ Kg7 3.Rh7+! Kxh7 4.f8Q wins

i - 1.Kf6? Rg7! 2.Rg6 Kh8! 3.Rxg7 stalemate

(The ending of this study also arose in a chess club game - where I had lost. It's a secret of life to turn even losses into gains.)

---
No more posts
MatPlus.Net

Forum

General

Simplicity vs. complexity