(1) Posted by Siegfried Hornecker [Tuesday, May 8, 2007 01:48]; edited by Siegfried Hornecker [07-05-12]
Konstantin K. Sukharev, Schachmaty Listok 1930
(2) Posted by Arpad Rusz [Tuesday, May 8, 2007 14:44]

The study would be correct even without the h6(or h7) black pawn!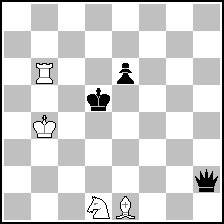 (= 4+3 )



1-0
Solution:1.Bg3! Qh6(1...Qg3 2.Nc3 Ke5 3.Rb5+-; 1...Qg2 2.Ne3+-) 2.Nc3 Kd4 3.Bf4! Qf8 (3...Qf4 4.Ne2+-)4.Rd6+-

(3) Posted by Zalmen Kornin [Saturday, May 12, 2007 13:25]

According to http://www.arves.org/Biografie.htm a page with data extracted from Harold van der Heijden DB III 2005, Sukharev published just 4 Studies... (Siegfried, I'm seeing 4 Studies in Your site http://sh-kunstschach.de/start/studien/composers/sukharev_k.htm but the download function with get-right is not activated here in my pc, so i can not assert in moment if more KKS studies are available in Your file to download - I just see that he had broad interest in- and outside Chess...)

The question about the black Pawn 'h6' is very momentous - It would be interesting to know how someone in 2005 overlooked that the P was superfluous, as Arpad Rusz claims (in 1930 it was more likely to occur) - With a Pawn minus, the study ascends to the 'miniature' category...

(4) Posted by Siegfried Hornecker [Saturday, May 12, 2007 15:33]

There are only those four studies in the file. I'll send it per e-mail to you.

(5) Posted by Zalmen Kornin [Saturday, May 12, 2007 16:39]

Danke! Very kind - I'll try to solve from the diagrams, and keep the e-mail at hand to see the full solutions :)

(6) Posted by Iļja Ketris [Saturday, May 12, 2007 22:26]
(7) Posted by Siegfried Hornecker [Monday, Sep 17, 2007 19:57]

Today I received post by Rudolf M. Larin. He sent a brochure about the 3rd festival to the memoriam of K. K. Sukharev and printed two of my versions there. The version of Sukharev's 1930 study without the h pawn (as found by Arpad Rusz) also is mentioned there but only in the text, not with diagrams.

---
No more posts
MatPlus.Net

Forum

Endgame studies

Konstantin K. Sukharev, Schachmaty Listok 1930