Page: [Previous] [Next] 1 2 3 4 5 6 7 8 9
(161) Posted by Darko Šaljić [Sunday, Apr 28, 2019 09:26]

One of the most imaginative and unique composers in history. Every single of his work was a revelation for me. I'm really sorry, big loss.

(162) Posted by Wilfried Neef [Thursday, May 2, 2019 16:06]

Dieter Kutzborski was one of the finest Moremover-composers (some of his 3-movers including) ever. All his problems are breathing deep originality!
You may check this statement by reading the book ("Verschlüsselte Steine") mentioned by Siegfried in this thread. Dieter felt that problems should be pure pieces of art, and he declined any touch of commerce, therefore he did not sent in for FIDE-Album and others, and therefore he is not so well-known as he could be!

(163) Posted by Jacques Rotenberg [Friday, May 3, 2019 00:57]

Dieter Kutzborski
Schach-Aktiv 2006
2nd Prize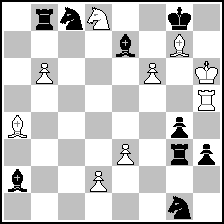 (= 9+9 )



16#

1.Kg6! [2.Rh8‡] Bb1+ 2.d3![3.f7#, 3.Bb3#] B×d3+ 3.Kh6 [4.f7‡, Bb3+] Bc4 4.Bb5![5.B×f5+] Ba2 5.Kg6 Bb1+ 6.e4! B×e4+ 7.Kh6 Bd5 8.Bc6 Ba2 9.Kg6 Bb1+ 10.Rf5!! B×f5+ 11.Kh6 Be6 12.Be4! B×d8 13.Bh7+ Kf7 14.Bg6+ Kg8 15.f7+ B×f7 16.Bh7‡

2.Rf5? B×f5+ 3.Kh6 R×b6!!

(164) Posted by Eugene Fomichev [Wednesday, May 8, 2019 13:52]

Vladimir Mikhailovich Voronin (31.3.1950 - 8.3.2019), Tim city (Kursk region), the russian doctor of psychiatry, phothographer, chess composer, collector of chess books, amateur of direct miniatures passed away on March 8th. RIP, my friend.

---
No more posts
Page: [Previous] [Next] 1 2 3 4 5 6 7 8 9

MatPlus.Net

Forum

General

Obituaries